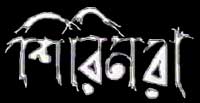 Cast:
June Malliah, Sujan Mukherjee and Mir
Crew:
Cinematography:
Sirsha Ray
Art Direction:
Indranil Ghosh
Sound:
Atanu Sarkar
Music:
Debajyoti Mishra
Editing:
Rabi Ranjan Maitra
Produced by:
Ramoji Rao
Story, Script and Direction: Subrata Sen
UKTv (Bangla) presentation



Shirin-ra
(Women like Shirin)
Shirin-ra is a film shot on digital video exclusively for television. It was a commissioned film for Etv-Bangla. This was Sen's first venture into television and he says it was quite a rewarding experience.
Synopsis
Shirin, a working woman, is in madly love with her husband, Surajit, who was her college mate. But Shirin is the kind of person who would not remain satisfied with her identity as "Surajit's wife". She starts exploring her sexuality and finds compatibility with her colleague Subrahmanium Iyer, fondly referred to as Mani. She leads the dual life till her birthday party when she can't explain everything to herself…
Shirin-ra is a film more about style rather than content. Movie goes forward and backward in time and space and creates an illusion as a few portions are shot in monochrome. It's the stylistic rendering of the movie that had attracted lakhs of viewers to watch the film and had earned itself a very high TRP (television rating point).
Festivals:
Mumbai video festival