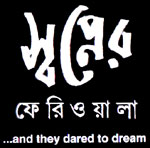 Cast :

Subrata Dutta
Ferdous Ahmed
Nilanjana Sharma
Dipankar De
Baisakhi Marjit
Haradhan Bandyopadhyay
Goutami Bhattacharya
Bodhisattwa Majumdar

Technical Details:

Gauge: 35 MM
Format: 1: 2.35 ( Scope )
Sound - Dolby Digital
Year of Production: 2002
Duration - 119 minutes
Production:
Arjoe Entertainment

Swapner Feriwala is a modern-day fable set in an urban Indian milieu. Its a symbolic story of love and friendship, of youthfulness and obsession and the young generation's fight against the religious bigotry.

A godman appears in Turni's conservative household and wins the confidence of the house-owner through his Tantra-tricks. Turni meets two friends in Shome and Siddhartha, rationalists and magicians, who have devoted their lives to bust black-magic rackets.

Shome is an enigma who despite his rationalism feels that there is some ultimate magic somewhere in the world, which has eluded the mankind. The exuberant three-some win their battle against the Tantra godman, but Shome leaves in his quest leaving Turni and Siddhatrha behind to face life.

This is Swapner Feriwala where the youth dare to dream.



Awards:

Swapner Feriwala has received BFJA Award for Best Newcomer.


Festivals:

Swapner Feriwala has been accepted at Karlovy Vary Film Festival, 2002.

Credits

Music Composer -
Debojyoti Misra
Art Director -
Indranil Ghosh
Cinematographer -
Sirsha Roy
Sound Designer and editor - Rabiranjan Maitra
Executive Producer -
Arindam Mukherjee
Producer -
Arya Bhattacharya
Story, Screenplay and Direction -
Subrata Sen