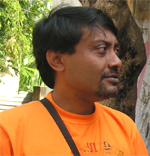 Meet The Director

Subrata Sen was born in Kolkata in 1963.

After a brief stint in a bank as an officer, he joined journalism in 1987 in Anandabazar Patrika, the largest circulated daily in India. He shifted from ABP to The Statesman in 1992, where he remains till he made his first film Ek Je Achhe Kanya ( The Girl) in 2001.

Ek Je Achhe Kanya is Subrata Sen's first film, which made waves in Bengal and India. It won massive critical acclaim and at the same time was a major success story in the commercial arena.

The film has been acknowledged by the Jadavpur University as the "First New wave Film" for the young generation in the post Satyajit Ray era. The film has been included in the University's Film Studies course from 2002.

Subratra Sen's sudden decision to quit journalism, where he worked as a correspondent in New Delhi, came as a surprise to many. Says Sen, "After working for almost a decade in Delhi and covering seven Prime Ministers of the country, I thought it was time to do something else. May be, it was my mid-life crisis."

Sen never had any formal training in film-making. He describes making of Ek Je Achhe Kanya his first training ground. However, as a child, he came in close contact with Satyajit Ray, the master Indian filmmaker, while writing for Sandesh, a children's magazine which the maestro edited. It was probably Ray's over towering influence in childhood, which initiated Sen in to delving in filmmaking.

But despite his close association with Ray, Sen has consciously avoided Ray's style of filmmaking. "Ray is a fixation of Indian Filmmakers. We have to get out of his influence and make movies which are different, " he says.