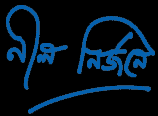 Cast:
Moonmoon Sen, Raima Sen, June Malliah and others.
Nil Nirjane
(Vacation Blues)
Nil Nirjane is the first digital full-length feature film made in India. It has been shot entirely on digital video format and later converted into celluloid, with astounding results. This is also a film which has used sync sound after a long time in an Indian film. Says the director Subrata Sen, "This was an experiment for all us to try out the technology that has emerged as a boon for the independent filmmakers. With the final print in hand, we can now say that Nil Nirjane is a path breaking movie in Indian context."
Synopsis
Nil Nirjane is set in a holiday resort where several people have come to spend their weekend. An interesting urban milieu far away from the humdrums of Kolkata is created in the film where we see an unwed mother with an adolescent daughter, a widower father with an adolescent daughter and an unwed couple. While relationships among unknown people start developing, the manager of the resort leads a slow life and gets entangled with a tribal girl. Suddenly Cactus band group arrives in the resort to shoot for their music video album and the serenity of the place is disturbed…
Technical specifications:
Length: 109 mins
Gauge: 35 mm
Aspect ratio: 1:1.85
Sound: Dolby digital

Nil Nirjane wins Best Experimental Film Award in Australia


Credits:
Cinematography:
Sirsha Ray
Art Direction:
Indranil Ghosh
Music:
Debajyoti Mishra
Editing:
Rabiranjan Maitra
Sound designing:
Anup Mukherjee
Executive producer:
Manoj Rungta
Produced by:
Rajesh Kumar Rungta
Story, script and direction:
Subrata Sen
Production House:
Shunya Media Pvt. Ltd.